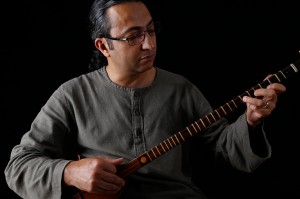 Setar and Tanbur player and Improviser
Academic background: B.Sc. in Metallurgical Eng.(Sharif Technical University) + Executive MBA
Reza Houshvar has started playing Setar when he was 9 years, with Maestro " Behnam Vadani in 1982. Then Maestro "Masoud Shoari" was the one who taught him more than the basics.
He has the honor to be coached, trained and mentored by  maestro     " Hosein Alizadeh" for around  6-7 years, when his  "Setar playing style" was mainly formed.
He was then selected as a member of Hossein Alizadeh's band, where Mohesn Keramati and Afsaneh Rasaii were the singers and fabulous Setar players, such as Ali Boustan, Mohammad Reza Ebrahimi and Mahyar Moshfeq were the other Setar players in band.
Maestro" DariuoshTalaii" was the other precious gem he encountered in his musical path.  Following Maestro Dariush Talaii, he tried to investigate other "Setar playing Styles" and to follow             "Traditional Iranian Radif" in a professional way, theoretically and       practically  for about another 5-6 years.
In 2013, he started learning Tanbur with Maestro Keikhosro Pournazeri and then Sohrab Pournazeri, as a way to continue.
With thank to all his masters in his artistic path, he has started teaching Setar to a wide range of ages since 1990 so far, followed by Online teaching since 2012 to a couple of distant students.
Performances:
 8 student concerts ( 3 concerts Setar solo) at universities. 1991-2004
 Many performances in different khanqahs (some joined by Maestro Amrollah Shah Ebrahimi). 1991- 2005
Solo Concert in Niavaran cultural ctr. (Maestro Osman Mohammad Parast) Tehran. 2001
Mehrvarzan band . Toronto SHUT Reunion. 2002